Steel Buildings Nationwide is the leading source for

steel buildings

in

Jellico TN

! We carry many different sizes and styles to choose from. We can custom design a

steel building

to meet your needs!

Jellico Tennessee steel buildings

are designed to meet mother nature's extreme forces by our state certified engineers. For the areas requiring building permits we provide engineered drawings for our certified units(additional costs may apply). Try our

3D Builder

. Our steel buildings also offer different gauges of steel framing: 14 ga standard or 12 gauge which is thicker and offers a 20 year rust through warranty! Our metal buildings come standard with 29 gauge sheeting, with 26 gauge available at an additional cost!

Tennessee steel buildings

are available in many different colors! Our

Jellico TN steel buildings

are great for equipment shelters, mini storage buildings, recreational areas, horse arenas, airplane hangars and commercial buildings!
With years of experience our knowledgeable staff can help you design and order the perfect building to meet your needs. ​
So if you're ready to get started give us a call today toll free:

1-877-662-9060

or email us: sales@mayberrymetalstructures.com!
Steel Buildings Jellico TN | Tennessee Metal Buildings
30x50x12 All Vertical Steel Building
with: (3) 10'x10' Garage Door

24x40x12 All Vertical Steel Building
with: (2) 10'x10' Garage Doors
(1) 36" Walk in Door​​​​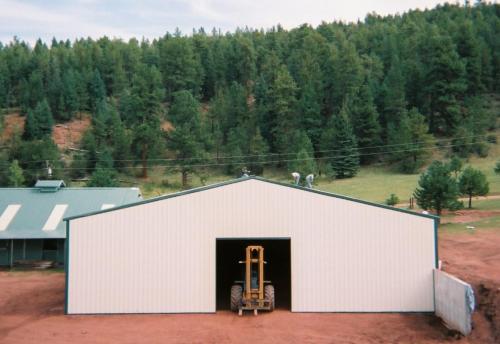 50x50x12 All Vertical Steel Building
with: (1) 10'x10' Garage Door
(1) 36" Walk in Door​​​​
50x60x14 All Vertical Steel Buildings
with: (1) 12'x12' Garage Door
​(2) 10'x10' Garage Doors
(2) 36" Walk in Doors

50x40x13 All Vertical Steel Buildings
with: (1) 10'x10' Garage Door​​​​
36x40x12 All Vertical Steel Building
with: (2) 10'x10' Garage Doors​​​
32x40x13 All Vertical Steel Building
with: (3) 10'x10' Garage Doors
(1) 36" Walk in Door
(3) Windows

Trying to figure out exactly what your steel building will cost? Try our

3D designer/estimator

or call one of our knowledgeable steel building experts to guide you through the process. They can help you with the requirements for your foundation/land or permitting so that you can have everything ready prior to having your building installed. In addition to steel buildings, we also offer carports, metal garages, rv carports, utility carports, metal barns, carport kits, metal buildings, sheds, storage buildings, portable buildings, storage sheds, pole barns, residential buildings, and commercial buildings! Our steel buildings can be used for a metal garage, workshop, storage space, warehouse, or metal barn. Our metal buildings also add value to your property in addition to the extra enclosed space.
​

​The Advantages of Steel Buildings: Why Steel is the Perfect Choice for Your Construction Project

​When planning a construction project, one of the most important decisions you'll make is choosing the right material for your building. In recent years, steel has emerged as a popular choice for its numerous advantages. From increased durability to cost-efficiency, steel offers a range of benefits that make it the perfect option for your construction needs.
First and foremost, steel buildings are incredibly strong and long-lasting. With their ability to withstand harsh weather conditions and resist fire, steel structures provide a high level of safety and security. Additionally, steel is a flexible material that can be easily customized to meet your specific design requirements.
Another advantage of steel construction is its cost-effectiveness. Compared to other building materials, such as wood or concrete, steel is more affordable in terms of construction and maintenance. It requires less maintenance in the long run, which translates to lower costs over the lifecycle of the building.
Moreover, steel buildings are environmentally friendly. Steel is a highly recyclable material, and constructing with steel reduces the need for deforestation and minimizes waste.
Whether you're constructing a warehouse, office building, or residential property, steel offers a variety of advantages that make it the ideal choice for your construction project. With its strength, cost-effectiveness, and environmental benefits, steel buildings are the smart choice for modern construction.​